About us
Who am I? A good question, don't you think? I am Andrea Joubert,born in 1971 and I grew up with many types of animals,having had the priveledge of living on a small holding. My favourite animal has always been the wolf. Therefore it was easy to love a dog. We always had about 5 dogs at a time as we had the space to keep them.The dogs taught me about pack behaviour, the way dogs communicate, hierarchy and Leadership. They taught me about canine body language and also how to successfully train them.

Obviously I grew up, got married, owned more dogs who taught me more, and then I acquired a very special little white Bull Terrier bitch that I named Ayla's White Flash (1997 - 2011). She was not my first Bull Terrier but she is the most special dog I have had the privilege to own. She is also the founder of my Dog Training Institute, the instigator to get me to study and research all about dog obedience training, behaviour and almost everything there is to know about dogs to such an extent that I am now fully qualified in Dog Behaviour and Obedience Training, making me a fully fledged Canine Health Ethologist (definition: Health Ethology is the scientific study of the needs of domestic animals in their usual environment). The Health Ethologist aims to place the animal's needs in balance with its environment.). Please note that although I specialise with the English Bull Terrier breed I am not exclusive to them, but rather I am very knowledgeable about most breeds and my methodology is geared to train them all. I am also constantly researching about dogs, be it behaviour, nutritional needs, health, genetics, you name it and I have probably researched it, or will be doing so very soon.
I also love to stay healthy and fit and apart from doing Yoga & Tai Chi, I have also taken up doing Dual X. This is an event where you run cross country, then mountain bike and then after this you run cross country again, all in the same event. It is challenging as well as a lot of fun and as there is a series every year consisting of 4 events and I do take part in all four. This is why some Training Cycles may have a missing weekend. But do not worry as you will still be given all your lessons of your Training Cycle. Keeping healthy and fit is lots of fun and when I can I will run, rather than walk my Dog walking dogs. This is great fun for them and for me. So therefore I do not just work with dogs all week but also spend a portion of my week at gym, or trail running or mountainbiking.
My Qualifications:
2002 S.A.A.D.O.I. Basic Home Obedience Course
2002 S.A.A.D.O.I. Puppy Course
2003 Southern Dog Training Advanced Obedience Instructor's Course
2005 Ethology Consultancy Animal Behaviour Course: Basic - Dogs
2006 Ethology Consultancy Animal Behaviour Course: Advanced - Dogs
2010 South African College of Herbal Medicine & Health: Herbalism & Nutrition Course
2011 International Institute of Holistic Healing: Health, Nutrition & Fitness Course
Reg. nr. AB/047 Member of South African Board for Companion Animal Professionals since 2007
Certification nr. G1504/40 Super Pup Gold Trainer Certification 2015
Over 30 years of practical canine experience and still learning.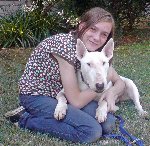 I am also the proud author of "The Bull Terrier Training Manual" 1st & 2nd Edition (now off print due to printer/publisher issues) and also "Successfully Raising & Training the Dog" which is an adapted version of the Bull Terrier Training Manual but applicable to all breeds with some extra chapters such as The Guard Dog. I will be updating and editing these books so they will not be on sale for some time. I have learnt so much in the past several years that I really feel this information needs to be added. I will update this page accordingly.